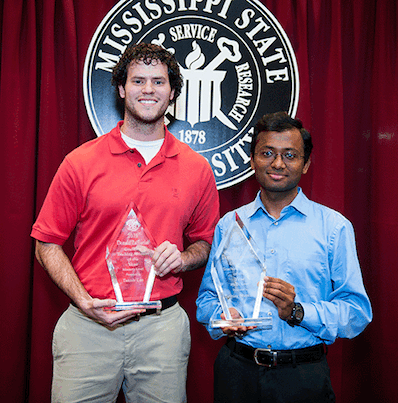 Tanner Lee (left), winner of the master's-level Zacharias Award, with PhD Zacharias award winner Tanmay Bhowmik.
It has been said throughout the years that hard work pays off. Tanner Lee is a primary example.
Recently, Lee earned the Donald Zacharias Graduate Teaching Assistant of the Year Award, the only one of these awards given at the master's level at Mississippi State University.
Excitement was obviously the first reaction for Lee, who has worked as a graduate teaching assistant (GTA) in the Department of Kinesiology since the fall of 2013. However, he also notes a more personal and less obvious reaction to being awarded this accomplishment.
"I just know that this is a stepping stone to where I want to be in life," Lee said. "It was an honor to win this award, and it serves as a distinct reminder for me that who I am becoming in life is on task with the capabilities I wish to have one day to really impact lives and the world for Jesus."
Prior to his time as a graduate student, Lee also earned his bachelor's degree in clinical exercise physiology at MSU in 2013. However, he didn't want to stop there.
"I chose to pursue my master's simply out of the desire to master the ideas involved in this type of field," Lee said. "I enjoy the information and wish to be as well rounded as possible, in order to provide as much positive value in life for others. This will simply serve as one avenue for that, as will many other interests that I want to learn about."
While working on his master's, Lee has taught several classes as a GTA, including Emergency Health Care, Health Trends and Topics and Strength Training. All of these have helped him learn to manage additional responsibilities, both as a student and an educator.
"If you really want to learn something, teach it to others," Lee said. "I have grown to be very competent in the material I have been taught through the years, as well as having to teach it numerous times. It has also instilled a larger level of confidence in me. The more responsibilities that I have taken on, the more confident that I have grown. That has really helped me continue to step out of my comfort zone and try new things."
Though he has certainly had success so far, Lee doesn't consider himself "lucky" and feels that success is earned by becoming a leader.
"To me, successful people in life do not get 'lucky'," Lee said. "Success comes from years of personal development and obsessive amounts of dedication to a purpose. I can say, in all confidence, that the best leaders are never born, they are made. I hope one day to become one of those types of leaders. I haven't always been who I am today, but it has been a consistent work in progress. For me, this award serves as a monument to my progress, and God continues to bless me in giving me direction in development of my life."
Lee will complete his master's degree in exercise physiology in May 2015, and he plans to attend occupational therapy school at the University of Mississippi Medical Center in Jackson following graduation, with the goal of obtaining a Master of Occupational Therapy degree.