The Neuromechanics Laboratory in the Department of Kinesiology under the directorship of Dr. Adam Knight and Dr. Harish Chander focuses on a comprehensive biomechanical, neuromuscular, motor learning and performance analysis of human movement. The aim of the lab is to enhance understanding in biomechanical, behavioral, neural, and cognitive mechanisms underlying human movements and to improve performance and prevent injuries in a variety of populations ranging from recreational, athletic, occupational, geriatric and special populations.
Check out our research: Neuromechanics Laboratory - We Ring True!
Directors of the Neuromechanics Laboratory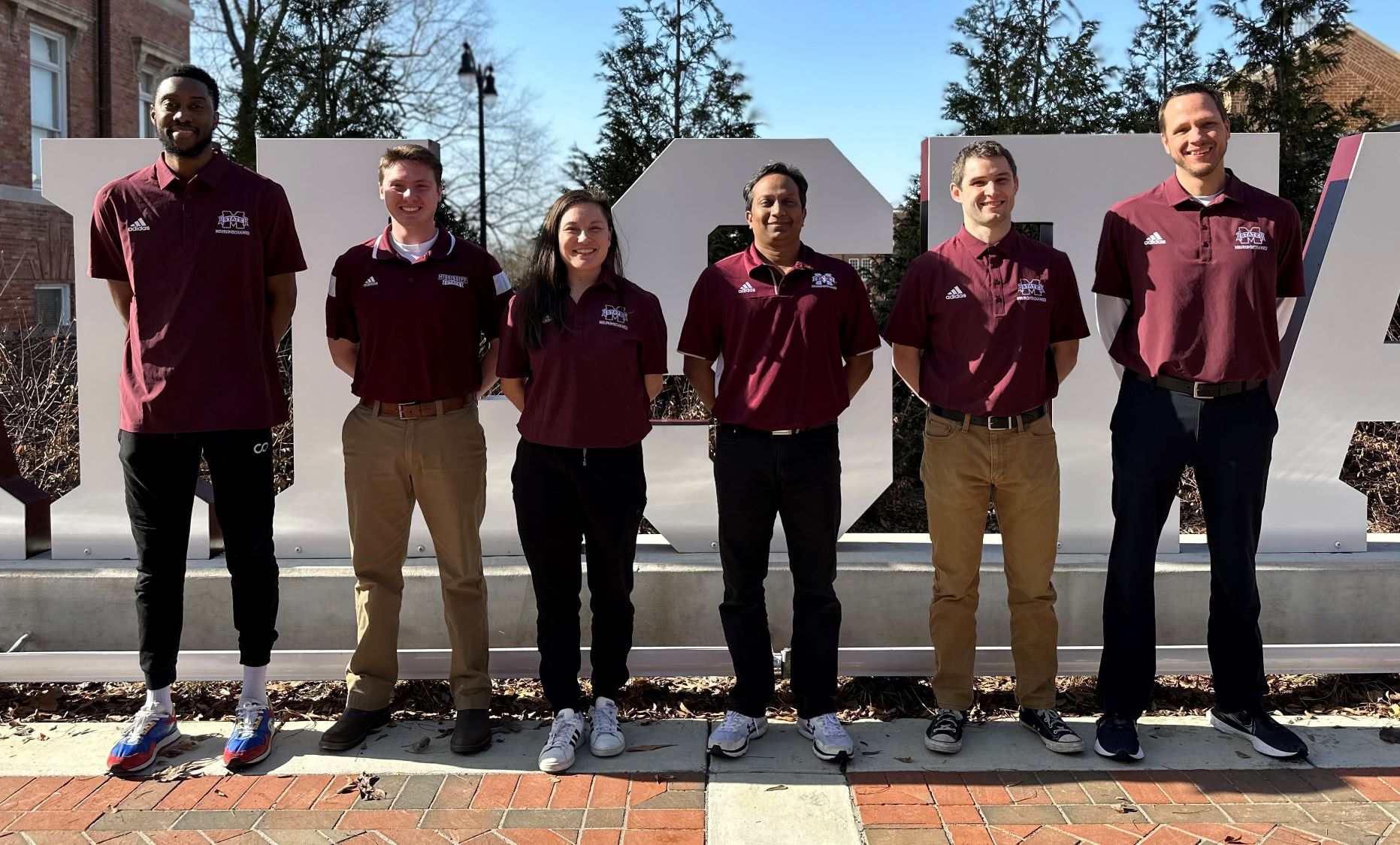 Current Doctoral Students
Aaron Griffith
Hunter Derby
Nate Conner
Kristy Gourley
Current Masters Students
Aleigha Nance
Megan Moorehead
Lab Alumni
Dr. Sachini Kodi - Assistant Professor - Weber State University

Dr. Alana Turner - Assistant Professor - Coastal Carolina University

Dr. Hunter DeBusk - Human Factors Engineer - Boeing

Dr. Chris Hill - Assistant Professor - Northern Illinois University

Dr. Jeffrey Simpson - Assistant Professor - University of West Florida

Hannah Freeman - Doctor of Occupational Therapy Student - University of Alabama-Birmingham
---
Research
Human factors and ergonomics research focuses on population such as military, firefighters, warehousing, construction and manufacturing. Clinical and sports biomechanics research focuses on chronic ankle instability, pediatrics, geriatrics, and on athletes at various levels in a variety of sports.
Human Factors and Ergonomics
Physical and cognitive ergonomics
Safety promotion and injury prevention
Slips, trips, and falls
Fall prevention
Postural control and balance training
Workload, work task and fatigue
Virtual reality (VR)
Wearable technology and sensors
Personal protective equipment (PPE)
Occupational footwear
Clinical and Sports Biomechanics
Performance enhancement and injury prevention
Chronic ankle instability
Foot-ankle biomechanics
Balance assessment and training
Wearable technology and sensors
Ergogenic aids
Sporting and casual footwear
Adapted physical activity in pediatrics
Fall prevention in obese and geriatrics
---
Research Funding
Projects funded by National Institute of Occupational Safety and Health (NIOSH), Occupational Safety and Health Administration (OSHA), National Science Foundation (NSF) [NSF-PFI, NSF-MRI, NSF I-Corps], National Heart, Lung, Blood Institute (NHLBI), Mississippi Center for Clinical & Translational Research (MCCTR).
---
Research Publications
Click here for a full list of research publications
---
Facilities
8-camera Motion Analysis motion capture system
8-channel wireless Noraxon EMG system
16-channel wireless Delsys EMG system
32-channel EMOTIV EEG system
14-channel EMOTIV EEG system
Dual AMTI force plates with walkway
BTrackS balance platform
HTC Vive Pro-Eye - Full VR system with eye tracking
Blazepod cognitive response time trainer system
Foot arch height measurement index tool
Pressure pain algometer
Digitimer electrical stimulator
Fall harness system
Treadmill and cycle ergometer
Multiple exercise tools for fatigue induction
Motorsport racing simulator with cockpit (Xbox Gaming Console) for E-Sports/E-Racing/Sim-Racing
---
Research Collaborators​​​​​​
Athlete Engineering and Human Factors, Center for Advanced Vehicular Systems (CAVS)
Industrial Systems and Engineering
Electrical and Computer Engineering (Sensor Lab and Radar Lab)
Computer Science and Engineering (Hi5 Lab)
Mechanical Engineering
Agriculture and Biomedical Engineering (NERD)
Fashion Design and Merchandising
Building Construction Science
---
Current and Prospective Students
Undergraduate Students:
Neuromechanics Research Group (NRG) – Undergraduate Research Club.
Description
This organization is for students interested in Neuromechanics research. Neuromechanics is a field of study that focuses on the effects of neural interventions on muscle activity to produce human movement. The goal of the group is to further understand the nature of neuromechanics and how it can be applied to real world situations.
Requirements:
To become a member, you must meet the following requirements:

Interested in Neuromechanics research
CITI certified through the IRB website to conduct human subjects' research
Have a cumulative GPA of 3.0 at the time of membership. Freshman must have at least 12 hours of college credit at MSU to be eligible for membership.

For other research opportunities, please contact Dr. Knight and Dr. Chander.
Graduate Students:
Masters' students who want to opt for the "thesis" or the "directed individual study (DIS)" concluding option and interested to do this in the Neuromechanics Laboratory, should contact Dr. Knight and Dr. Chander, as early as possible into their respective academic curriculum.
Potential Doctoral students, interested in Neuromechanics, please contact Dr. Knight and Dr. Chander.
Graduate students who are interested in the Neuromechanics Laboratory are welcome to attend our weekly research meetings. Follow us on Twitter @MSU_NMLab for the most recent updates and meeting times.
Resources:
Prospective Students
Thank you for your interest in the Neuromechanics Laboratory. The NM Lab focuses on research encompassing neuroscience and biomechanics and offers research, learning, directed individual studies (DIS) and internship opportunities, working with one or multiple faculty members, based on your research interests.
---
Contact Us
216 McCarthy PO BOX: 6186
Mississippi State, MS 39762
The Neuromechanics Laboratory's research core faculty members include Drs. Adam Knight, Harish Chander, Zhujun Pan, Chih-Chia Chen, Zack Gillen and John Lamberth. 
Follow us on Twitter
For more recent lab updates and ongoing research, please follow the Neuromechanics Laboratory @MSU_NMLab on Twitter.