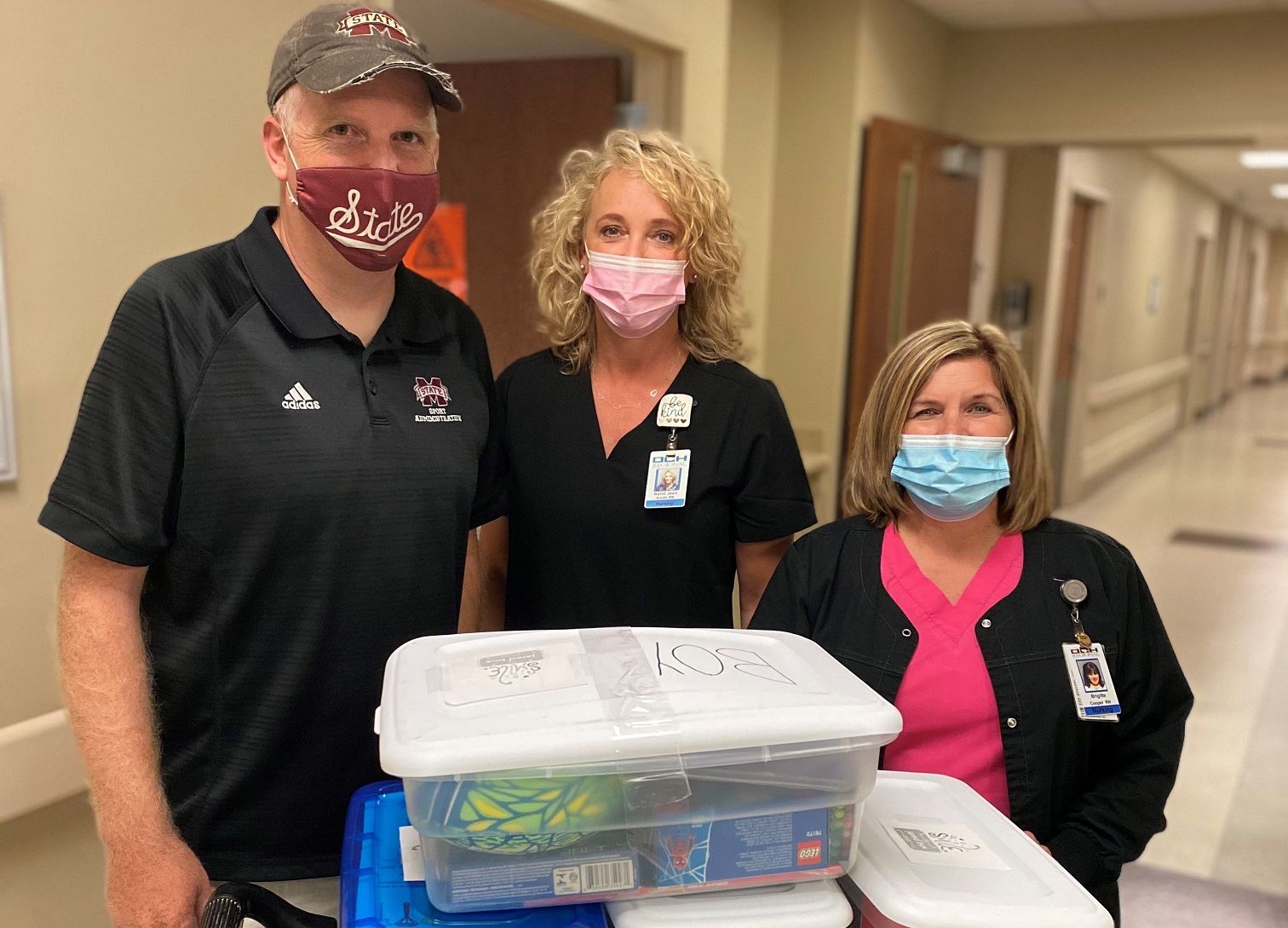 (May 7, 2021), Starkville, MS -- Jared Boxes made by graduate Sports Administration students in Dr. Twietmeyer's SS 8883 sports ethics course were recently delivered to OCH Regional Medical Center. Jared Boxes are shoe boxes full of toys and games for children in the hospital. Dr. Twietmeyer encourages the students to participate in the project as a lesson in altruism and as an example of Aristotle's claim that "we become what we practice". Thinking about others first inculcates the virtues of selflessness and charity. He also emphasizes that creating opportunities for play in the face of suffering (such as Jared Boxes provide) is deeply encouraging and a great reminder to the convalescing young patients that for for all of its ups and downs, life is good.
The Jared Box Project was started in 2001 in State College, PA in memory of Jared, a young cancer patient who always brought a backpack of toys and games with him to his treatments. He noticed that children at Hershey Medical Center rarely had anything but broken toys to play with while they recuperated or underwent treatment. After Jared lost his battle with cancer, his family founded the Jared Box Project as a way to honor him and as a way to remedy the problem that Jared had noticed while he was fighting cancer.
Summer Seage, a student in the course, and the Facilities Coordinator for the Sanderson Student Recreation Center, said she put a lot of thought into what she put into her box, "I added a coloring book and some art supplies, a few small toys, and a storybook that I loved the most as a child, which I think could bring some joy."
Kyle Downey, another student in the course, said he plans on making Jared Boxes on an annual basis, "It truly was a joy to pick out toys and crafts for the children. Knowing that I was able to brighten up a kid's day with the Jared Box is extremely gratifying. I plan to keep this tradition up long after taking Dr. Twietmeyer's class."