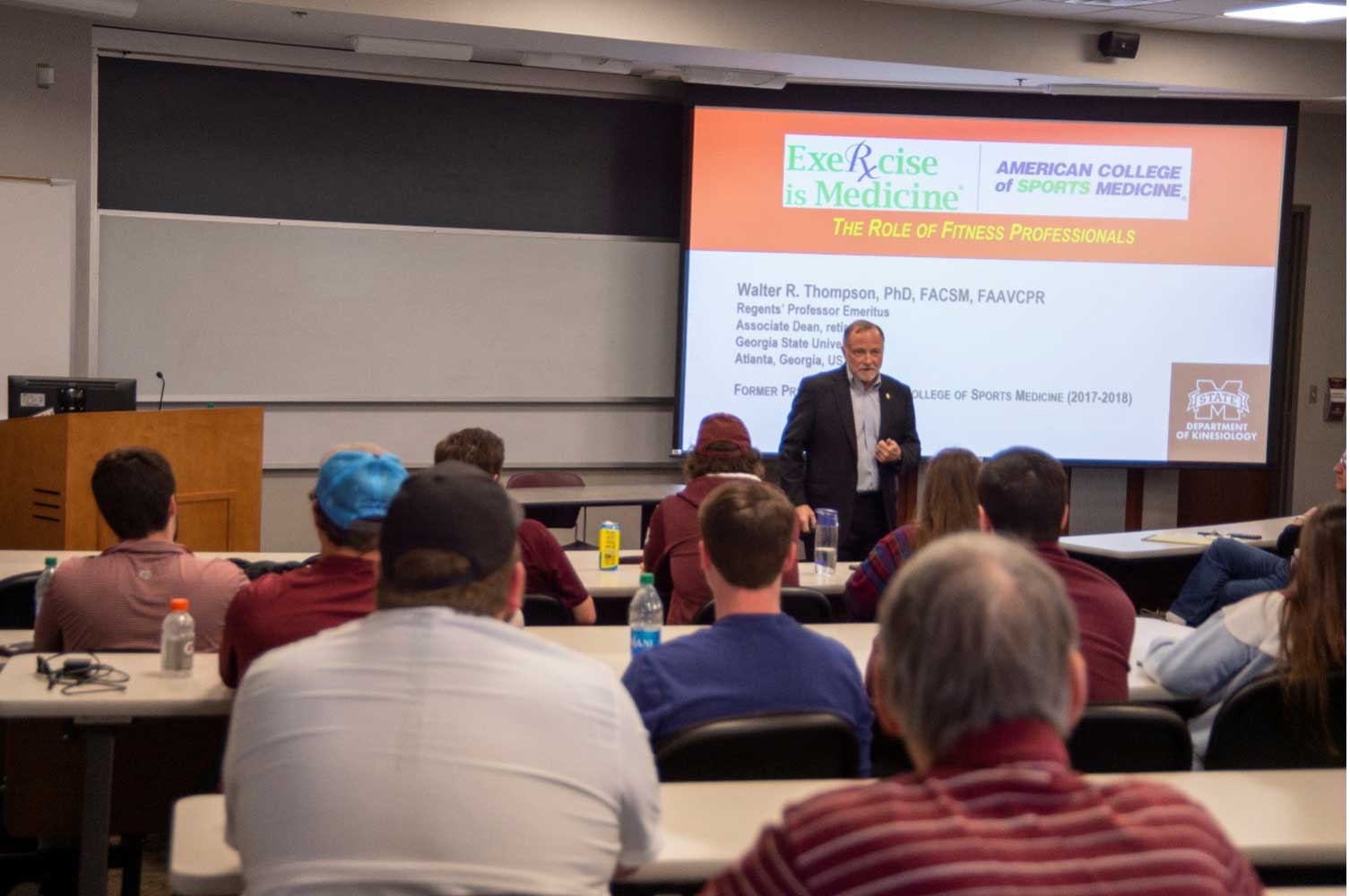 (April 8, 2022), Starkville, MS -- The Academic Culture Committee in the MSU Department of Kinesiology hosted Dr. Walt Thompson as a part of the Graduate Seminar Series on March 25, 2022.
Dr. Thompson is the Executive Director, Committee on Accreditation for the Exercise Sciences; Regents' Professor Emeritus, Associate Dean for Graduate Studies and Research, retired in the College of Education & Human Development at Georgia State University. He also served as the President for the American College of Sports Medicine (ACSM) from 2017-2018. He also was the primary Ph.D. advisor for both the MSU Kinesiology Department Head, Dr. Stanley Brown, as well as MSU' s Dr. John Lamberth, when he was a professor at the University of Southern Mississippi.
Dr. Brown introduced Dr. Thompson and shared his experiences, emphasizing the importance of a professional relationship between the faculty and students.
Dr. Thompson's talk was titled; "Exercise is Medicine: The role of fitness professionals". The discussion focused on the importance and the need for certified and licensed fitness professionals in the health care industry, bridging the gap between a health care provider and the patient, and promoting healthy well-being through the philosophy of "Exercise is Medicine". He also talked about the after-school program he initiated in Georgia, which has benefited countless young people, and his involvement with the Olympics in elevating exercise physiology research.
The event was attended by undergraduate and graduate students, as well as by several faculty members.
The Academic Culture Committee in the Department of Kinesiology will continue to host several virtual and in-person talks as a part of the Graduate Seminar Series. Everyone is welcome and each event is FREE. Please follow MSU Kinesiology on Social Media (@msstatekine) for the most recent updates. 
Photo: Camille Carskadon