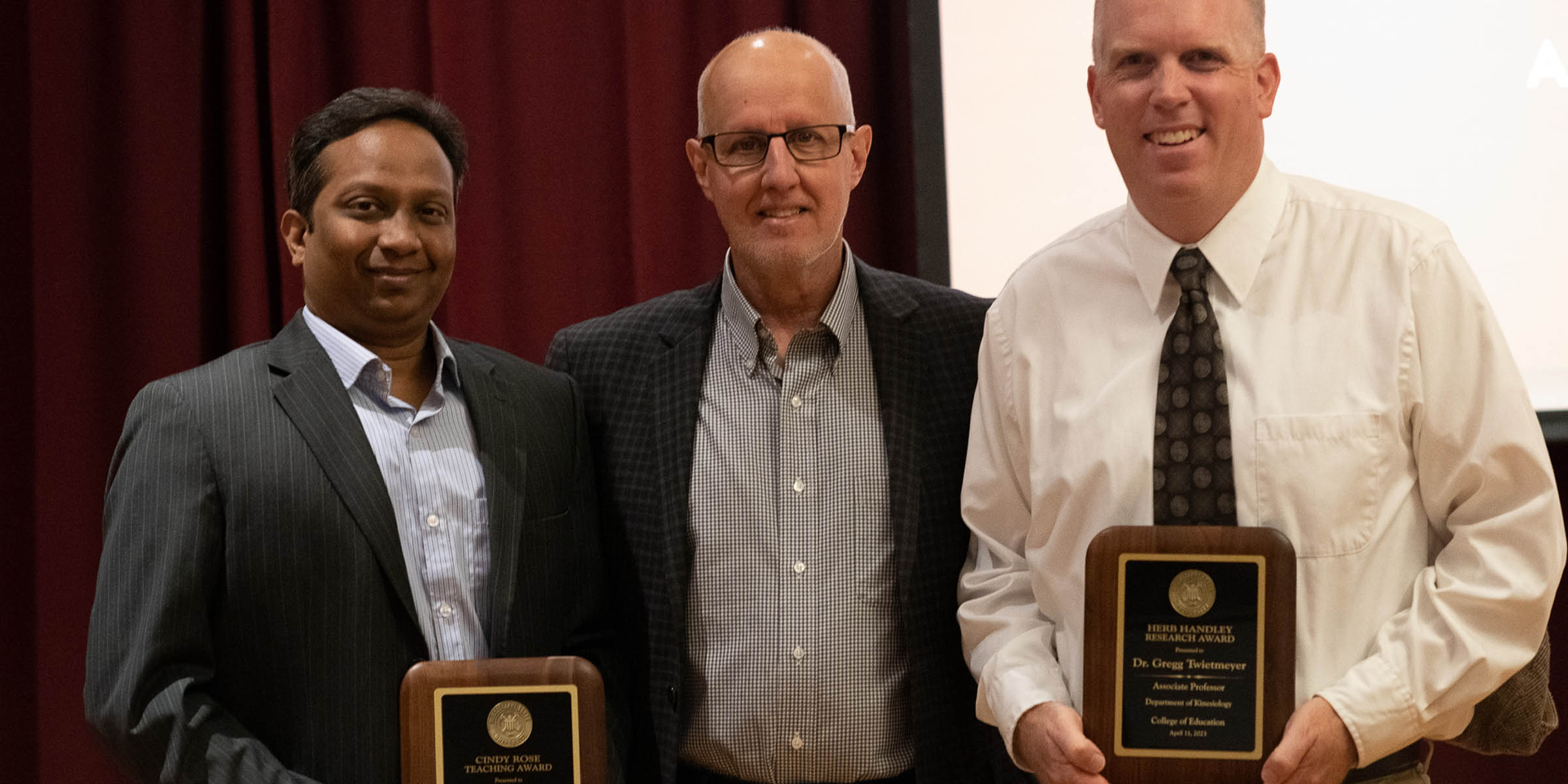 (April 12, 2023), Starkville, MS -- The College of Education's Annual Awards Ceremony was held on April 11th, 2023 in the John Grisham Room in the Mitchell Memorial Library. The Department of Kinesiology had two Award winners. Dr. Harish Chander won the 2023 Cindy Rose Teaching Award while Dr. Gregg Twietmeyer won the 2023 Herb Handley Research Award.
Dr. Chander teaches in the Neuromechanics and Exercise Science programs and is Co-Director of the Neuromechanics Lab. He teaches courses in the undergraduate and graduate program including Applied Anatomy and Pathophysiology and Neuromechanics in Exercise. Commenting on his teaching, Dept. Head Dr. Stan Brown said, "Harish is an outstanding teacher, researcher, and mentor for both undergraduate and graduate students in our department. In that, he incorporates not just effective teaching in the graduate curriculum, but also instills research exposure and mentorship for the students. Hence, both our undergraduate and graduate students get an extremely holistic education and have gone on to be very successful in academia, research, and industry."
Dr. Twietmeyer teaches in the Sport Administration and Sport Studies programs. He teaches courses such Sport Ethics, Sport Philosophy and Gender and Sport. His research area is sport philosophy and focuses on topics such as the philosophy of kinesiology, the mind/body problem and sport and religion. He also recently published a 3rd Edition of his textbook Fundamentals of Sports Ethics. Commenting on Dr. Twietmeyer's research, Dr. Brown emphasized that his research "addresses an important and often neglected area in the kinesiology literature by examining the philosophical foundations of kinesiology, sport and physical activity...He has consistently made important and timely additions to the sport philosophy aspect of kinesiology. "